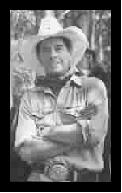 PETER BROWN
FROM HORSE OPERA TO SOAP OPERA
After the decline of TV Westerns, Peter Brown found a home in daytime TV. Like most soap actors, he moved among a number of different series. His longest running and most popular role was as Dr. Greg Peters in Days of Our Lives from 1971 to 1979. After Days, Peter played attorney Robert Laurence in The Young & the Restless [1981-82, 1989-1991], university president/politician Roger Forbes in Loving [1983-84], Charles Sanders in One Life to Live [1986-87], and Texas millionaire Blake Hayes on The Bold & the Beautiful[1991-92].

For a group putting together a Peter Brown fan site, we're sorry to say our collective knowledge of the soap genre is dismal. The NiteOwls have no video and little in the way of pictures or information on Peter's daytime roles. Since his Days of Our Lives stint was pre-VCR it's unlikely we'll find anything from that show. If anyone out there can add to our skimpy Peter-as-soap-star library by way of scanner or video clips or photocopies, we'd appreciate it. For what little we have, we thank TV Movie magazine collector Wanda Weidemann who supplied most of the clippings on the soap pages. Thanks also to Anne Raymont and Jo Anne Roberts who supplied us with a few more.

Unlike his Laredo costar Philip Carey -- Asa on One Life to Live or fellow Westerns alum David Canary [Bonanza] -- Adam on All My Children, Peter never took on one of those hard-to-find soap roles which lasts decades. From what little we know about the soaps, it seems those roles involve playing either the good patriarchs who don't have much to do or the bad patriarchs who keep their evil just this side of major felonies so they can continue their roles. Carey and Canary landed juicy roles as the latter. Peter just never looked old enough for the parts. Although he and Canary are contemporaries, Canary borrowed Bonanza costar Lorne Greene's sexy secret of silver hair early in his soap career making him suitable for the patriarch role.
If you have any Peter soap stuff for our site
Contact us at: peterbrownsite@peterbrown.tv
Celebrity Gossip Pages--Photos--Real Dates--Publicity Dates--Mini-Interviews - Soap Roles