Peter's Acceptance Speech at the Golden Boot
EVENIN', I'VE HEARD TELL SOME FOLKS DON'T BELIEVE IN MIRACLES, BUT THEY HAPPEN - ME BEIN' UP HERE T'NITE IS LIVING PROOF.
CONSIDER THIS, A KID BORN SMACK DAB IN THE MIDDLE OF NEW YORK CITY, GROWIN' UP LISTENING TO "THE LONE RANGER" AND "GENE AUTRY" ON THE RADIO - SNEAKIN' OUT TO SATURDAY MATINEES TO SEE ROY AND DALE AND THE SONS OF THE PIONEERS, TIM HOLT, HOPALONG AND ALL THE REST.
THEN WINDIN' UP MOVIN' BACK A CENTURY ONTO SLIM PICKENS' RANCH UP IN THE SIERRA NEVADA MOUNTAINS OF CALIFORNIA. BY 'MOVING BACK A CENTURY' I MEAN WE HAD NO ELECTRICITY, NO RUNNING WATER, JUST A PUMP AT THE SINK AND A KEROSENE LANTERN HUNG FROM A RAFTER ON A ROPE WHICH WAS LOOPED OVER AN ANTLER ON THE WALL. NO SUBWAY, NO CABS. BUT THERE WAS A HORSE, ONE HORSE, HER NAME WAS DIAMOND. THE ORIGINAL OLD GRAY MARE. BUT SHE WAS SO OLD AND SO GRAY, WE CHANGED HER NAME TO DIME. MY OLDER BROTHER AND I WOULD DOUBLE UP ON HER AND RIDE HER BAREBACK 2 ½ MILES INTO THE TOWN OF COARSEGOLD. WE'D LEAVE HER AT THE LOCAL LIVERY BEHIND THE GAS STATION, AND GET ON THE SCHOOL BUS. 76 MILES EACH WAY - EVERY DAY. COURSE IT HELPED IF YOU HAD A GIRLFRIEND ON THE BUS. I WAS NEVER HAPPIER. EXCEPT FOR MAYBE TONITE.
A BRIEF HISTORY
I LEARNED: MY CRAFT FROM MY MOTHER
I LEARNED: SCREEN ACTING FROM JOHN RUSSELL
I LEARNED: LOYALTY AND PATIENCE FROM THE GOLDEN BOOT COMMITTEE
I LEARNED: HUMOR FROM CASEY TIBBS AND BAXTER BLACK
I LEARNED: FAST DRAW FROM ARVO OJALA AND ROD REDWING
I LEARNED: HONESTY FROM BEN JOHNSON
I LEARNED: COURAGE FROM RICHARD FARNSWORTH
I LEARNED: FAIRPLAY FROM EVERY STUNT PERSON I'VE EVER KNOWN.
I LEARNED: CAMARADERIE FROM THE "HOLE IN THE WALL" GANG
I LEARNED: THE COWBOY WAY, FROM ALL OF YOU.
I LEARNED: FRIENDSHIP FROM CHUCK COURTNEY, DOUG MCLURE, ROBERT FULLER, ALEX CORD AND HERB JEFFERIES.
I LEARNED: LOVE. FROM LORIDAWN MESSURI, (AND SHE'S SITTIN' RIGHT THERE.)
I LEARNED TO BE PROUD OF BEING A COWBOY, AND I AM,
AND I AM MOST PROUD TO RECEIVE THIS GOLDEN BOOT TONIGHT.
I ALSO LEARNED THAT WHEN YOU'RE FINISHED, GET THE HELL OFF, SO, I'M GONE, GONNA FIND ME A WATERING HOLE. GOODNITE, GOD BLESS, NAMASTE' AND WITH CHERYL AND JULIE'S BLESSING, "HAPPY TRAILS". GRACIAS - ADIOS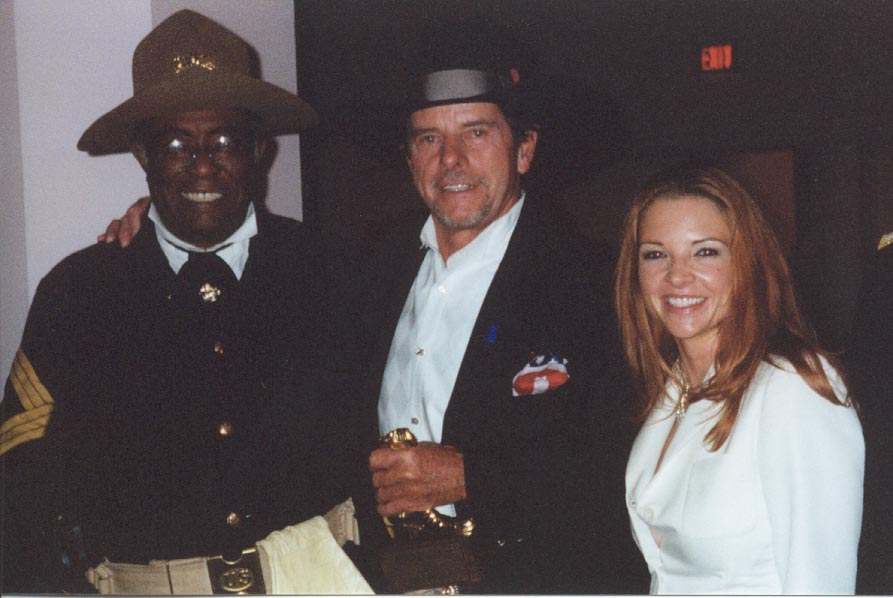 Bill, Peter and LoriDawn
Last photo of the evening. Peter was supposed to hold up the boot so it could be fully displayed. However, the sucker was heavy - or he forgot or I forgot. Anyway, you all know what a boot looks like. The gentleman next to him is a friend who is part of the Buffalo Soldiers, a group that participates in Western shows and re-enactments. They had to be dedicated to wear those woolen uniforms in the miserable SoCal heat. They provided an honor guard as the guests entered the dinner. They also made Peter an honorary captain.
Contact us at: peterbrownsite@peterbrown.tv