'Eye Candy' provided, with much thanks, by Suz Hayes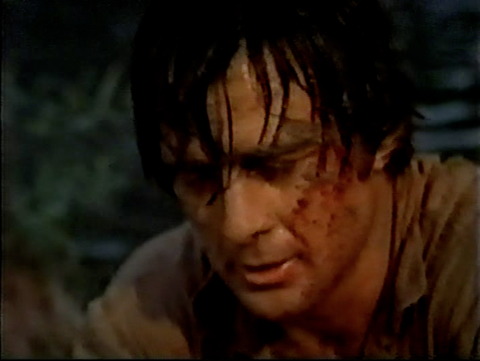 OK, so this was on tonight's agenda....


First thing; well it's the first episode of the 2nd season and we see the new (and sexier) Scott image in the opening credits. Always wondered why his was the only one that changed out of the three (he Johnny and Murdoch) but I think it is much improved on the season 1 image in the hat...looks moodier...more... well...'gorgeous'

So onto the episode. It's fiesta time at the hacienda and we see Scott helping a gal down off a wagon and escorting her to the party (grrr…hussy.... lemme at her!!) and then he starts to dance with her (double grrrr...I know where you live girly....)

Fortunately Murdoch has impeccable timing and interrupts the smooch and drags Scott away (way to go script writer.... for once I am on your side!)

Murdoch breaks the news to Scott that one of them, he Scott and Johnny, have to go spell Lem Cable at the shack so he can go home for the night.... them there's the breaks of being the bosses... the hired hands deserve to party for a while. They head in to seek out Johnny who is clearly not in party mood. When he hears about the shack he is quick to volunteer stating that "Scott's got all those pretty gals out there waiting for him" (well, no, actually, Coop has spiked their drinks and they are probably all off 'powderin' their noses' right now, so guess who's waiting for the next dance with Scott...yep, I'm workin' on a rewrite of this ep as we speak...)

So Johnny heads off to the line shack (now remember gals, nothing good can ever come of going to a line shack - this is a proven fact in any western you will ever watch - bad things happen...this is no exception...especially as the scriptwriter ( via Scott) informs us that Lem is supposedly sitting on a stash of gold....oh dear...)

When Johnny gets to the shack he finds poor old Lem at death's door. Supposedly from a beating but I reckon it was Johnny's singing that actually finished him off.... if you look real close there is blood coming out of his ear...no, actually I made that up…its in the rewrite…)

Anyway, in usual western contrived style, the dying man has the good grace to wait until he has been able to deliver his line before croaking....' "Get to my home"

Meanwhile the no good Meek boys, Slate, Clint and Harrison, the ones who did the beatin' on Old Lem have headed to his house to go find the gold. But they don't find nothin'.... as they are leavin' Johnny rides up and fires a shot at them and so they flee the scene. Johnny discovers the place trashed and rides off hot on the trail...

As he leaves, we see a young blonde gal emerge from the hidden compartment leading to the cellar wearing clothes and sporting a hairstyle that are so... well...60's And I ain't talkin' 1860's... Sheez...

Meanwhile, the bad guys are restin' up some and spotting some flying geese take bets on whether they could hit one of them. Slate boasts that he could hit a man at a 1000 yards.... and asks if they are still being followed. Oh ho… This ain't lookin' good for 'ol Johnny boy.... Gulp... and he's bigger than a goose...

Sure enough, Johnny obliges by stopping at the right moment to water Barranca. Oopsie...and yep, cue ominous music. Johnny is just about to have a VERY bad day....

Slate lines him up and squeezes the trigger and Johnny plunges into the water. With a whoop and a holler, the Meek boys go down to rifle the 'corpse' for whatever money he has got (and it will be soggy money at that...)

Meanwhile, said young woman has been following Johnny on her trusty white donkey, somehow figurin' that he must be the good guy (well, he's the most good lookin' stands to reason don't it?)…

Seein' him face down in the water, she dives in all graceful like and proceeds to take him to the refuge of a waterfall that just so happens to have a cave behind it. Heck, that was lucky wasn't it? Maybe if you look hard enough there might be a unicorn and a crock of gold too...Maybe Lem's gold?? Just a thought....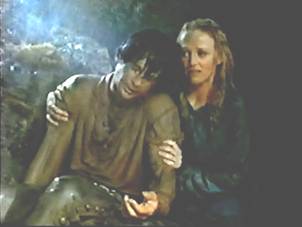 Now I am figurin' Johnny has swallowed a good few snorts of water by now and inhaled a good deal more, but, somehow he is still breathin' and shiverin'. Go figure...and I was all prepared to do mouth to mouth too...that's in the rewrite too.... Lori, Judi.... if you're good.... I might just let you do it.... no scrub that, I might rewrite it as Scott...if so...sorry gals, you've lucked out. Snicker...

Anyway, the ol' Meek boys just can't seem to figure the case of the missing corpse.... and they clearly didn't get no fairy tales read to them at bedtime when they was nippers else they'd know to look behind the waterfall.... guess it explains why they are bad guys...

Even the white donkey that just happens to be standing patiently by the river don't give them the clue that some kinda fairytale is goin' on here.... nope, they just don't get it and head off down river to look giving our blonde heroine the chance to get her injured good lookin' charge ('cuz she wouldn't have rescued him if he weren't pretty - right?) to shore.
Now she has 'saved' him though, she gets an attack of the 'scaredies' and tries to run away but who could resist that pathetic cry for help? Well, I could if Scott was in the opposite direction.... but our young mute heroine just can't leave bedraggled and bleedin' Johnny. It's clear he can't see (well, actually Johnny tells us - maybe the scriptwriter didn't think Johnny's staring eyes and the blood at his temple would be enough of a clue) and so it's a case of the blind leading the blind. Ok, if we are gonna be pedantic, the mute leading the blind...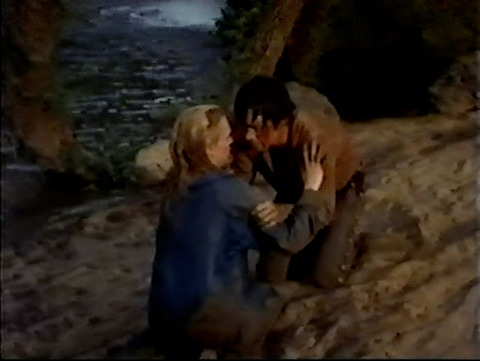 Meanwhile, back at the shack (the line shack) Scott and Jelly discover old Lem laid out all dead an' all...Scott takes charge and tells Jelly to go get a wagon and take Lem's body away...and then get Murdoch. He is heading off to look for Johnny at Lem's place, "Coz Johnny could be in a jam". Well, that's the understatement of the century...

Mattie (oh wait, sorry, we don't know her name yet) has somehow gotten Johnny onto the donkey but the poor boy don't look none too comfy on there, bless him...wonder how many times he fell off...? Takes him to Doc Sam in the ominously named town of "Hard Luck" who looks very similar to Dr Sam Jenkins but, no it can't be the same man...his surname is different.... hmmmm...someone must tell him he has a long lost twin who also practices medicine. Maybe they were separated at birth?

So doc does his best to patch Johnny up and Johnny finally discovers the identity of his rescuer and that she can't talk. Give him a break, I know we had all figured it but he's got a concussion and can't see....

So the doc has all the subtlety and sympathy of a well placed brick through the window and after dabbing Johnny's bullet furrow not too gently a couple of times, tells him he's gotta get out of there for Mattie's sake. Glad he's not my physician...

But he's right, those Meek boys are in town and they soon spot the white donkey and, utilising the combined under utilised brain cell that they possess between them, finally figure there might be a link to their missin' 'corpse.... and they head over to the good docs office, lookin' for their prey....

So Mattie (yes, we know her name now) and Johnny are smuggled out of the back door and Mattie gets Johnny onto a wagon and sets off to tuck him up in her bed at home... with her doll...hmmm...she may be mute but that don't mean she ain't a hussy...

Poor old Doc, not a brave man by nature faces up to the Meek boys, who clearly don't live up to their name. They are anythin' but and use the poor Doc as a punchin' bag to get the answers they want…

Meanwhile, Scott Murdoch and Jelly are putting things together. They find Barranca waitin' patiently by the river. He is still watchin' and waitin' for Johnny to surface...poor horse...nobody read the script to him.... Murdoch reckons they should head into Hard Luck and get together a posse to look for Johnny. Now, where did this town miraculously appear from? Why haven't we heard of it before? And why go there instead of Green River? Spanish Wells? Morro Coyo…Well, of course, the scriptwriter has a plan…. Heck if I know what it is though...anyone???? No??? Didn't think so....

Back at Lem's place, Mattie has Johnny all tucked up snug as a bug in a rug in her bed...and figures out a way to communicate by tapping twice for yes, and once for no..... on the lips. Not the arm...shoulder...side of face.... nope, has to be lips. Shameless.... and just to prove to him whose bed he is in, she gives him her rag doll. Now am I the only one creeped out by that? That Doll was seriously scary. I am thinkin' of the 1870's version of "Chuckie"...shudder...

Johnny tries to tell Mattie she must leave but a couple of foot stomps from our petulant heroine tells Johnny all he needs to know. She ain't goin' nowhere. Johnny's response is to say, "I'll bet you're pretty?" Eh? How can you tell that? Oh of course, no self respecting scriptwriter or casting director who wanted to continue working in Hollywood would EVER give Johnny Lancer a plain or unattractive love interest...its written into his contract...silly me...glad we cleared that one up.... All that talk of pretty gals and lip tapping clearly becomes too much for our Johnny and he passes out prettily (yeah, he looks kinda pretty too - but not as pretty as Scott....) while Mattie goes to hide the wagon...But its not too long before he wakes up screaming Mattie's name, seemingly from a nightmare. I reckon it was the doll...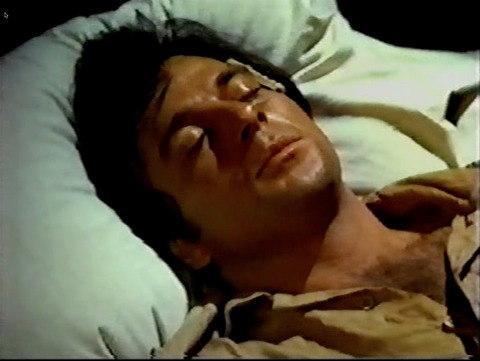 So the bad Meek boys have beaten the information outta the doc, found out Johnny is blind and they are headed off to Lem's shack. Trouble is a brewin'....

Meanwhile, Johnny has woken up and is fumbling around for a weapon as Mattie arrives back. She taps her foot twice to prevent him blowing her brains out...now that wouldn't make for a happy ending now would it.... although there's an idea for a dark AR fic...anyone...? Ok…movin' on....

Now here's where things get decidedly mushy.... Mattie, what she lacks in speaking ability, sure makes up for in non-verbal communication. Body language to you and me...and wastes no time getting all dressed up like a gal (Err...hunny, he can't SEE your lovely dress) I know, I know, it makes her feel girly.... and… alluring...and all. I get it. But she soon teaches Johnny how to 'see' with his hands. And he don't take much persuadin'.... They go to kiss...Johnny says "Mattie, we shouldn't do this..." and within a nano second, they are lockin' lips. The self-restraint of a gnat...sheez....

Now this is one of those "did they or didn't they?" scenarios - a bit like 'Did Scott and Moria McGloin or didn't they in the barn...?" I know what I think.... but I reckon this one is pretty clear-cut.

Next scene Johnny is lying in bed saying, and I quote verbatim "I never knew a man could find so much in the night" I mean C'MON!!!

There was definitely rumpy pumpy afoot in that there bed.... I just hope they had the good grace to get rid of the doll...

Johnny's next line would seem to confirm it "I never knew life could be so sweet" heck, it MUST have been good! I mean, he must have the mother, father, grandfather (you get the picture) of all headaches, he's blind and any minute now the bad guys are gonna come and finish him off and he's grinning like an idiot talkin' about life being sweet.... Nuff said....

Anyway whatever they did, its unscrambled Johnny's brains some and he has the foresight to figure out a way they can get the bad guys with a scattergun and nails (Glad I don't have to clear up the mess).

But as the Meeks ride up, Mattie shoves Johnny unceremoniously down the cellar.... She'll sort out the bad guys herself...or if she don't the doll will....

In comes Harrison Meek, (he is last on the cast list so clearly, has to be 'disposed of first'- that's how it works...) all lecherous and leery, while his big brothers go look for the wagon...

As Harrison is pawing at Mattie, Johnny emerges and holds a gun on him but Harrison knows he is blind and draws his knife and no amount of auditioning for "Riverdance" by Mattie is gonna save Johnny from a bloody end. Clever gal she is, she soon figures this and jumps on Harrison's back. Fortunately he lands heavily, bashes his head against the grate and is then tipped down the cellar (I tell ya what, Johnny had a lucky escape from this gal...you wouldn't want to have a 'domestic' with her, I tell ya...)

So that's one down, two to go. Here is where things get far fetched a little and Johnny makes like MacGyver and fashions an intricate booby trap for the rest of the Meek boys...

It doesn't take long for Slate and Clint to head back and being the oldest and smartest (he must have had the communal brain cell that day) Slate sends little brother Clint in to look for Harrison.

Poor old Clint. He has the dubious honour of having what has to be the worst 'last words' in western history...."Yoo Hoo, Harrison..." BAM!

So now it's down to Slate...and he quickly gets over the very messy demise of brother Clint and suggests to Johnny "Let's settle this gentleman to gentleman."

Yeah right.... but addled as he still clearly is, Johnny doesn't fall for it. He and Mattie are hiding in the cellar with the bound and gagged brother Harrison...waiting...

Slate soon figures the booby trap was only rigged to go off once (heck that brain cell is getting a work out eh?) and heads inside. He is on a roll though.... poor Mattie has been careless and hasn't entirely covered up the secret hole so Slate soon figures where they are and proceeds to pour lamp oil down the cellar and sets a match to it.

But, perfect timing, in comes Scott, Murdoch and Jelly, shooting nasty Slate in the nick of time. They had ridden into Hard Luck just in time to see the doc stagger out of his office (it really is all about timing isn't it?) and he had told them where Johnny and Mattie were hiding out and they managed to get their just in time to rescue them (anyone know what happened to Harrison?) from a fiery end. Although, I thought Murdoch was a tad insensitive in his greeting to Johnny " Boy, am I glad to see you." Yeah, that's right Murdoch, rub it in why doncha...

So, back at the ranch (sorry, guys I really LOVE saying that!!)

Scott and Murdoch are pacin' and drinkin'. (Ok Scott is pacin and drinkin'.... didn't really look at Murdoch...sorry) but, yeah, we get it, they're frettin'. Today's the day. The bandages are comin' off… and Johnny might be permanently blinded...(no, he won't, this is only the first episode of season 2...don't worry gorgeous one...)

But here Scott delivers the kiss of death to any chance that Johnny has of happiness with the immortal line "Well, at least he's got Mattie on his side. How do you feel about that?"

"She says she loves him. That's good enough for me."

Oh dear...right on cue, in comes Dr Sam and delivers the killer blow. He is moving back East...and he wants Mattie to go with him.... she hasn't given her answer yet but...before he can go on Teresa announces the bandages are coming off and they all sprint upstairs....

Johnny is clutching Mattie's hand, he is scared... wants her with him...but you can tell what she's thinkin'; if he can see...he won't want her anymore. All the while they both had a disability, it was a level playing field, but once he can see...that'll change. And heck...she also knows that if she stays around, the ratings will drop dramatically as the legion of Johnnyettes will all petulantly refuse to watch the show any more, not to mention the hate mail she will receive...heck, she knows when to beat a hasty retreat...so she tests her theory. Lets go his hand and jumps up...Johnny starts, calling for her, and Teresa takes his hand...and he can't tell the difference...

Oh dear...

It tells Mattie what she needs to know and the rest of those assembled see the implications too. Mattie sadly hands the note to Murdoch and departs...aww.... (All the Johnnyette's are cheering at this point)

Finally the moment of truth, the bandages come off and of course, Johnny can see (c'mon did you REALLY think he wouldn't?)...But there's no Mattie.... he asks where she is and Murdoch tells him she has gone (well, yeah, that's pretty clear)

Johnny gets this little boy hurt look on his face...Sniff...sorry...ahem...got a bit of grit in my eye here...

Johnny jumps out of bed and yells out the window at the retreating wagon but Mattie doesn't look back (Oooh that's HARD).... Murdoch hands the note to Johnny and despite the doc having said he wouldn't be able to focus properly for a few days he manages just fine to read the contents of the note (well, ok, he has to hold it real close and squint) before fleeing out the door in his nightie....

Scott tries to stop him being the caring big brother he is but is held back, protesting, by Murdoch "But he can't see completely he can only hurt himself more" and Murdoch's response "No, no he can't"

As poor Johnny runs after Mattie, yelling that he loves her, no doubt getting a terrible draft up his nightie, he is finally resigned to not catching up to her and falls to his knees and rereads the crumpled note which says....

"Becuz I Luv you."

In the days to follow he was to realise that it was the right thing for her to head off to that special school. Hopefully they would be able to correct her atrocious spelling...

So yeah, this is a Johnnyette ep really BUT we get to see some masterful Scott scenes - at the shack, shooting Slate and trying to go after his ailing brother...Of course not nearly ENOUGH of our darling boy, but he had the nice blue shirt on...and then that rather fetching white one at the end.... Wish he had worn that more....

All in all though, I do like this episode...and as I said before, LQ Jones (Slate Meek) is one of my favourite Western villains and is always good value!

Right, well, that's enough from me...(phew, I hear the collective cry!) It's time for sleepy nigh nighs....

G'night
Coop :-)